Honda's current model range can be divided into two rather distinct camps: staid and sensible or utterly bonkers.
While the former accounts for the bulk of its sales, attracting more conservative customers, the latter – consisting the Civic Type R and NSX – has established it a somewhat cult status with enthusiasts.
With the Honda e, the brand is chasing a new type of customer. Therefore, it has developed an entirely new car. Honda's first production electric car, no less.
The Honda e is a retro-styled electric city car that looks like no other. It's designed to bring technology to the forefront, while delivering a zero-emission vehicle with style and desirability at heart.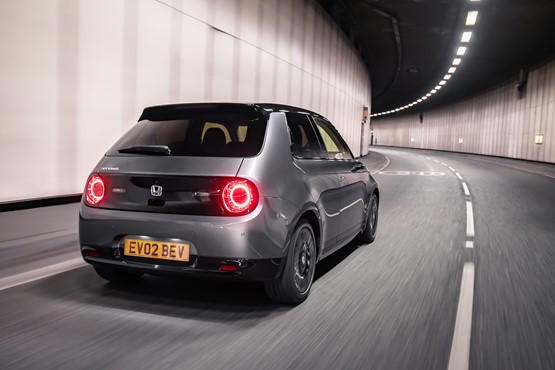 Based on the Honda Urban EV concept that debuted at the 2017 Frankfurt motor show, the Honda e is a real-life concept car for the road. Its interior features a panoramic array of widescreen monitors and all the mirrors are cameras.
The flush-fit door handles, one-piece gloss black front panel and circular lights give the car a unique look. It plays homage to the original Civic but adds a modern twist.
Under the floor sits a 35.5kWh battery that gives this car a range of up to 137 miles, although we'd say 100 was more realistic.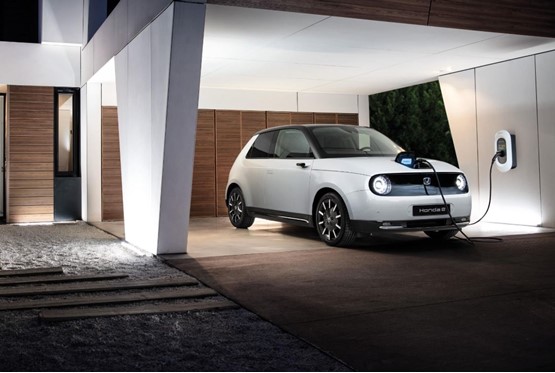 It powers an electric motor in the rear axle, meaning the electric Honda is rear-wheel drive, unlike its counterparts. While this doesn't make it particularly better to drive, it does mean the car can dispatch its power more cleanly without scrabbling for grip.
Buyers can choose between two models. The base Honda e develops 136PS and is priced at £26,660 (including Government grant). There is also the higherspec Honda e Advance, which costs £29,160 (inc grant).
The Advance has 154PS, reducing the 0-62mph acceleration time from nine seconds to 8.3. Both serve up a decent amount of shove, as you'd expect from an electric car.
Standard equipment includes air conditioning, heated front seats, parking sensors and rear-view camera, sat-nav and a suite of safety and driver aids. The Advance gains a 360-degree camera system, heated steering wheel, upgraded sound system and blind spot monitor.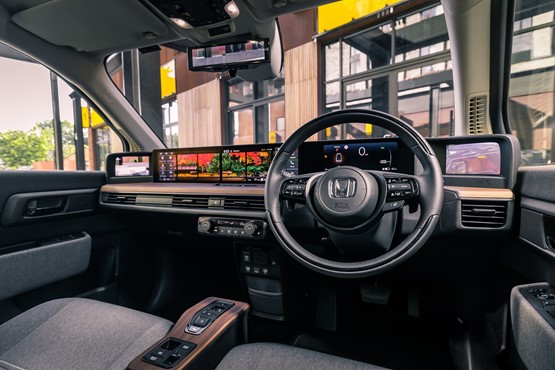 Connectivity plays a big part in the new car's functionality. Owners can interact with the car remotely via the My Honda+ smartphone app and use it as a digital key to unlock and start the car.
The new infotainment set-up is miles ahead of anything we've experienced in other Hondas. It's simple to use and allows the driver to configure what is shown on each display – there's even a 'virtual' fish tank.
With a limited driving range, Honda has focused on fast charging technology to ensure users can get where they are going. The Honda e can reach 80% capacity in 31 minutes, using the fastest charger.
While the Honda e makes good progress on the motorway, it's clearly a car that is more at home in the city. The turning circle is similar to that of a black cab, making it the ideal urban commuter.
Compared with the Mini Electric, the Honda e offers a similar range and comes at a similar price. The Mini is bit quicker, but the Honda comes better equipped.
This is where buyers may become torn. Mini has opted to retain its classic look, with the car almost indistinguishable from a regular version. Honda, meanwhile, offers something more unique for those who want to stand out.
The PSA Group's new small electric cars, offered as the Peugeot e-208 and Vauxhall Corsa-e, along with the Renault Zoe, are more practical and provide a range of more than 200 miles, but they aren't as interesting or as much fun.
Q&A
REBECCA STEAD, HEAD OF AUTOMOBILE AT HONDA MOTOR UK
What role will the Honda e play in the brand's electrification strategy? Will this be a volume seller or act as something to draw attention to the brand?
Honda announced last year that we are accelerating our electrification plans, with all of our mainstream models being electrified by the end of 2022. Part of this announcement was two new BEV products, one of which is the Honda e and the other will be announced in due course.
How has the car been introduced to dealers and what preparations are they expected to make before they can sell it? 
The Honda Power Charger installation programme has been rolled out across the network, with participating Honda dealers required to offer charging facilities from March this year. 
Some other small electric cars have a longer range than the Honda e, how will you assist a customer to decide if it's the right choice for them?
With Honda e, we set out to create the next generation of urban commuter vehicle and, as such, we developed a product that is the perfect size for use in the city, with a good balance of range and performance. To add further range, a larger battery would need to be added to the vehicle, increasing weight and taking up further space, which is not ideal for an urban commuter vehicle. From our internal research, we know the average daily commute is around 25 miles, so customers would be paying for range they do not regularly use.
For those customers who regularly travel longer distances, we would advise purchasing from our range of petrol-electric hybrid vehicles: CR-V Hybrid, and the new Jazz e:HEV.
What add-on/aftersales opportunities are there for dealers to profit from?
There is a full range of accessories for the new Honda e including styling packages and alloy wheels, as well as the Honda Power Charger.
When will the cars be available in showrooms and what lead times will dealers be instructed to communicate to potential buyers?
The Honda e is available in retail forecourts now. For those customers placing an order – if we have the car in stock, they can take delivery of it in a week. Otherwise, the lead times are three months.